A Presentation of Kwela Music
by the Malawian Musician/Composer Donald Kachamba
(edited by Henrik Bettermann)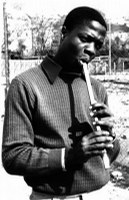 Donald Kachamba, born in Blantyre, in 1953, is considered one of the outstanding musician-composers of the middle generation in south-eastern Africa. Born in a musical family he has contributed enormously to the development of the kwela (flute-jive) tradition. Kwela a verb meaning "to climb up", "to rise", "mount" in several southern African Bantu languages became a code-word for a jazzrelated form of music which emerged in southern Africa during the 1950s. Kwela was inspired by contemporary American jazz forms of the Swing period in Jazz history. It soon assimilated, however, african musical forms of various southern African regions, such as sinjonjo, vula matambo, saba saba, resulting in a novel and original blend of musical traits.
Special techniques were developed on musical instruments, for example an unusual oblique embouchure for playing the metal recorder-type flute which marks the kwela-sound. This flute, although industrially manufactured at the time by firms such as the Hohner Company, Trossingen (Germany),was adapted by kwela musicians to perform the current southern African dance music. Specific construction, tension and playing techniques also characterize the one-string bass which displays remote historical connections with the african ground-bow, although it was inspired by the bass in 1950s skiffle groups. Guitar playing techniques also deviate considerably from standard "classical" guitar playing, even in the number of strings. A five-string tuning is used in Donald Kachamba's group, in which the lowest string alludes to the fundamentals of a musical bow. Instead of the flute, an E-flat clarinet is used in many of Donald Kachamba's compositions.
Donald Kachamba was the last representative of the kwela tradition in southern Africa today. Since 1972, he has been on extensive, sometimes world-wide tours almost every year, covering 33 countries in Africa, Europe and the Americas. In May 1988 he was touring Finland on invitation by the Institute for Workers' Music, Helsinki, in May 1989 he performed at the Ethnographic Museum of the University of Zürich. In 1991 the band toured Belgium and Germany. From this tour resulted the CD "Concert Kwela -- Donald Kachamba et son ensemble" LDX 274972 CM 212, Le Chant du Monde 1994. In 1994 Donald Kachamba was invited to the colloquiwn "Music and Anthropology" in Lisbon 28 September to 3 October to present one of his films. Thereafter he gave lecture performances in Berlin, Frankfurt and Salzburg. The most recent European tour was in January 1995 to Holland, Belgium and France (on invitation by Radio France, Paris).
Donald Kachamba died on Friday the 12th January 2001.
The Kachamba Brothers' Band (Booklet by G, Kubik and LP record by Daniel and Donald Kachamba), Zambian Papers No. 9 Lusaka 1974, available from the Institute for African Studies, University of Zambia, P. O. Box 30 900, Lusaka, Zambia
Donald Kachamba's Band. Siemanje and Kwela from Malawi. Donald Kachamba's most representative playback compostions, with most of the instruments played by him alone and combined by him in montage technique), AIT Records Kenya Ltd., GKA 01, 1979, Available from AIT Records, PO Box 41152, Nairobi, Kenya.
Donald Kachamba's Kwela Music: Malawi Twist, 16-mm film, black-and-white, Ecncyclopaedia Cinematographica;B 2328.-- Available from the Institut fiir den Wissenschaftlichen Film, Göttingen (Germany), publ, 1978
Donald Kachamba's Kwela Music: Simanje-manje, Cha-cha-cha, 16 mm film black-and-white, Encyclopaedia Cinematographica, Göttingen E 2329, publ. 1978
Musiker aus Malawi, Opeka nyimbo, Musician/composers , southern Malawi Double-Album, LP stereo, MUSEUM COLLECTION MC 15. -- Available from Museum für Völkerkunde, Musikethnologische Abteilung, Arnimallee 23/27, D-1000 13erlin 33, Published 1989. (Notes by G. Kubik and Moya Aliya Malamusi)
Kachamba Brothers 1967, Part 1. Betacam-SP video. (Original 16-mm film, edited). Camera: Gerhard Kubik. Commentary: Donald Kachamba, Copyright Donald Kachamba/Gerhard Kubik, 1993
Gerhard Kubik (assisted by Moya Aliya Malamusi, Lidiya. Malamusi and Donald Kachamba):Malawian music - A framework for analysis. Zomba 1987. -- Available in Malawian bookshops and at the Department of Fine and Performing Arts, University of Malawi, P. O. Box 280, Zomba, Malawi
African Guitar. Solo fingerstyle guitar music, composers and performers of Congo/Zaire, Uganda, Central African Republic, Malawi, Namibia and Zambia Audio-visual field recordings 1966 - 1993 by Gerhard Kubik. (With pamphlet). Sparta (New Jersey): Stefan Grossman 1995. This one-hour video is available from Stefan Grossman's Guitar Workshop, P.O. Box 802, Sparta, New Jersey 07871, U.S.A. FAX: 201/7260568.
Info about: Performing Arts
Created 2005 by user
admin
Last modified 03/04/2005 18:57 (GMT+2)

Time of request
23/08/2019 11:12 (GMT+2)
© Copyright
2005
Scientific African